Vegetarian
Visitor
Guide to
Wales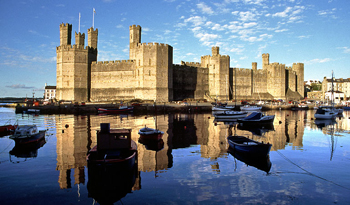 Modern Wales is famed for its beautiful scenery, world-renowned male voice choirs, history of coal mining and the resilience of its native language – Welsh is still widely spoken and many (if not all) road and other signs are in both Welsh and English.
But Wales has a complex history - one of conquest and resistance, from the arrival of the Celts and their Druid priests in the Iron Age, the Roman invasion in AD47, the slow Norman penetration of the 11th and 12th centuries and the Edwardian quelling of Welsh independence, to the Welsh rebellions, the best known (and last) of which was that of Owain Glyndwr (immortalized by Shakespeare as Owen Glendower) against England in the early 15th century. After centuries of conflict, Wales was finally united with England in 1536.
The evidence of this history can be seen all around; in the Roman walls at Caerwent, the great 8th century boundary line of Offa's Dyke and the many impressive castles – including Caernarfon (see picture), Beaumaris and the ruined Norman castle in Aberystwyth, captured by Owain Glyndwr during his rebellion.
In addition to the historical attractions, there is much to explore in the landscape of Wales. The Wales Coast Path, the many lakes, rivers and waterfalls, the Gower peninsula and the mountains – such as Gwynedd's Mount Snowdon, the highest mountain in Wales (a stiff 5km trek to the peak from nearby Llanberis, but very worthwhile for the more adventurous visitor!) and the Brecon Beacons.
Wales has more to offer than just history and nature however; there are plenty of noteworthy cities and towns to visit. Cardiff, the capital of Wales, has industry as well as history, Hay-on-Wye in Powys is a famous book town with an annual literary festival, Caerphilly in Mid-Glamorgan is famous for its cheese and castle and Llandudno in Conwy is a popular seaside resort.
Wales, land of mountains and castles, Celts, bards and Druidic lore - there is so much to discover, explore and enjoy!
---
Entries are grouped in four geographical regions and then alphabetically by county, then town or village, then name.