Vegetarian
Visitor
Guide to
East Anglia, England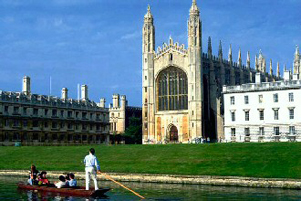 Cambridge is one of the most beautiful towns in Britain, if not in Europe. There was a Celtic settlement here before the Roman Conquest on what is known as Castle Hill. At the foot of the hill was a ford across the River Cam and the successive Roman developments probably included the building of a bridge at that point - the only one to have given its name to an English country. The 13th century saw the founding of the first college, after groups of scholars migrated from Oxford. Student hostels in the care of one the masters were established and these were the origins of the college system that still exists today. The Fitzwilliam Museum houses a magnificent collection of works of art of all kinds and the Botanical Gardens in Bateman Street date from 1846. Much punting is done on the river in summer, while the Gog Magog (or Grogingog) 'Hills' just outside the town, on the crest of which stands the Iron Age fort of Wandlebury, are popular with walkers.
Essex is the most Romanised part of Britain, as the conquerors made Colchester their capital, with many ancient roads still at least in part in use today. It was sacked by Queen Boadicea, described by Tacitus in his Annals, and has a complete 2nd-century wall and the biggest Norman keep in Europe. To see the best of Essex travel through the villages around Halstead, Dunmow and Thaxted, the area where Gustav Holst composed The Planets and H.G. Wells wrote Mr Britling Sees It Through.
Along the banks of the Suffolk border river John Constable painted his great series of Stour pictures and many of the churches, lanes, meadows, mills and farms he depicted can still be seen today. Thomas Gainsborough's birthplace can be found at Sudbury, further along the same river. A visit to the beautiful small town of Lavenham, with its great church and superb timber-framed Guildhall is also well worthwhile.
Moving north to Norfolk, a visit to Norwich, with its Norman Castle and Cathedral and many other remarkable features, is a must. But to most people Norfolk means the Broads, vast expanses of water that resulted from centuries of peat working, now explored by many on boating holidays. Also don't forget King's Lynn, while good beaches can be found along the coast.
---
Entries are grouped alphabetically by county, then town or village, then name.