Vegetarian
Visitor
Guide to
The North East of England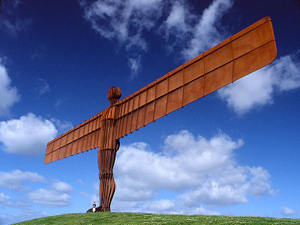 From Roman times onwards Northumberland was England's frontier county, with the raiding, pillaging and murder that for centuries had ravaged the county as far south as the Tyne valley only ending with the Act of Union between England and Scotland in 1707, although even after that for some time raiding was not unknown. Powerful families lived in castles, lesser folk in peel towers. It is hill country, with the Cheviots perhaps best known, and there are many rivers running in narrow dales. Between Gilsland and Housesteads is one of the best remaining stretches of Hadrian's Wall and Roman remains can be found everywhere. There are good beaches along the lovely coast.
Tyne & Wear is a metropolitan county, a wedge carved out of Northumberland and Durham. The port of Newcastle-upon-Tyne on the north bank of the Tyne is the administrative centre and boasts a number of bridges across the river. Antony Gormley's huge sculpture called The Angel of the North (see photo) near Gateshead stands close to the motorway and can be seen for miles around.
Yorkshire is the largest county in England and has everything a visitor can wish for - beaches, moors, dales, castles, ruined abbeys and priories, Wensleydale cheese, pretty market towns, moorland villages, country houses and literary connections. Haworth, where the Brontë sisters lived, is outranked only by Stratford-upon-Avon as a literary shrine.
The walled city of York was the military capital of Roman Britain, which they called Eboracum. It was burned down by the Danes in 867 AD and they renamed it Jorvic, from which the current name derives. Nothing is left of Anglo-Saxon and Danish York, but the Normans found a thriving little trading centre there. They too burnt it, in 1069, and then rebuilt the walls. It is still possible to walk along top of the walls, an experience not to be missed. Medieval York is everywhere, with The Shambles and Stonegate some of the best preserved examples. But the dominant feature of York is its magnificent Minster, built between 1220 and 1470 and  at least the fourth successive church on this site.
---
Entries are grouped alphabetically by county, then town or village, then name.