Vegetarian
Visitor
Guide to
South West England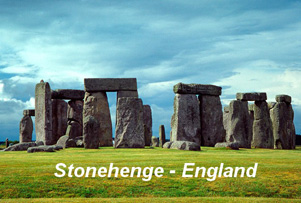 The West Country is steeped in history with stories of smuggling, piracy, intrigue and magic.
Stonehenge in Wiltshire is one of the most important megalithic monuments in Europe. Its origins are shrouded in mystery, but it is believed to have had religious and astronomical purposes. Modern-day Druids still celebrate the summer solstice there. Avebury, not far away, has a huge Neolithic stone circle, surrounded by a bank that also encloses the village.
According to legend Joseph of Arimathea came to Glastonbury in Somerset, buried the Holy Grail on the slopes of its Tor and built a wattle and daub church on the site where the ruins of the Abbey can now be found. According to a later legend King Arthur and his queen were re-buried in this large abbey.
Dorset boasts the world-famous Jurassic Coast, the city of Bath with its Roman hot springs is well worth a visit, as is the amazing Eden Project in Cornwall.  There are fantastic beaches, picturesque villages and many other things to enjoy in the West Country. And don't forget to try scrumpy (a rough dry cider), Cornish pasties and cream teas!
---
Entries are grouped alphabetically by county, then town or village, then name.