Vegetarian
Visitor
Guide to
the Heart of England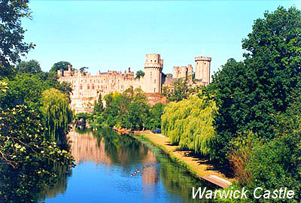 Apart from the West Midlands, the Heart of England has a rural character. The Forest of Dean in Gloucestershire has miles of woodland paths and and abounds in wildlife, while further west are the low hills of the Cotswolds with its picturesque villages and typical stone houses. The city of Gloucester has a magnificent cathedral, and in the spa town of Cheltenham a wealth of Regency houses border elegant squares, crescents and terraces.
Orchards, meadows and hops can be found in Herefordshire. Ross-on-Wye is a modest market town set on a red sandstone cliff above a lovely sweep of the River Wye and the city of Hereford too is edged by the Wye. Its cathedral was founded by King Offa of Mercia, builder of the famous Offa's Dyke, although much of it was added on or restored in later times.
Malvern in Worcestershire, on the eastern slopes of the Malvern Hills, is known for its mineral springs and the ancient cathedral city of Worcester is certainly worth a visit. Walkers will enjoy the hills around Church Stretton in Shropshire, of which Long Mynd is perhaps best known, and fine walks can also he had among the hills of the Caradoc range. Shrewbury is one of the best preserved medieval towns in the country. The church of St Mary's was built around 1200, has a fine stone spire, a 14th-century carved nave roof and lovely stained glass.
Warwickshire is Shakespeare country. Stratford-upon-Avon was his birthplace and he lived there for a considerable part of his life. Once he had achieved fame in London he was able to buy New Place, regarded as the finest house in Stratford. His tomb can be found in Holy Trinity Church and there are many buildings in Stratford with a direct association with Shakespeare, not least his wife's home Anne Hathaway's Cottage. The town of Warwick has a magnificent castle and some medieval houses, although a fire that broke out in the centre of the town in 1694 destroyed more than 250 buildings.
West Midlands is a small 'new' county created out of parts of Worcestershire, Staffordshire and Warwickshire. Apart from Coventry, which was devastatingly bombed in World War II and is famous for its modern cathedral, it mainly consists of Britain's second largest city Birmingham. This is an industrial city, but it also has a thriving cultural life, more miles of canals than Venice, the famous Balti triangle where every variety of Indian curry can be found, and the Bull Ring shopping centre. The headquarters of the UK Vegan Society are also in Birmingham.
---
Entries are grouped alphabetically by county, then town or village, then name.